Description Edit
The Teapot is a block that is used to brew a variety of Herbal Teas.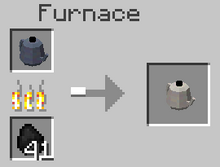 A Teapot is made by smelting an Unfired Teapot. (See Pottery)
How to Use
Edit
To Use the Teapot you will need to first place it above a Heater block, then you will need to fill it with water by placing a bucket of water in the top left slot of the Teapot. Then you will need to place a Mug in the bottom left slot, a Tea Leaf in the bottom middle slot and a Herb Extract in the bottom right slot. After a short time the ingredients will be consumed and a herbal tea will have been made and placed in the top right slot.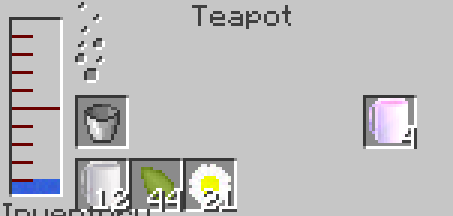 Below is a table of items that can be Brewed:
| Input One | Input Two | Input Three | Output | Use |
| --- | --- | --- | --- | --- |
| Mug | Tea Leaf | Chamomile Flower | Chamomile Tea | Cures Blindness |
| Mug | Tea Leaf | Licorice Leaf | Licorice Tea | Cures Mining Fatique |
| Mug | Tea Leaf | Sage Leaf | Sage Tea | Cures Wither |
| Mug | Tea Leaf | Rosemary Leaf | Rosemary Tea | Cures Slowness |
| Mug | Tea Leaf | Mint Leaf | Mint Tea | Cures Poison |
| Mug | Tea Leaf | Buchu Leaf | Buchu Tea | Cures Nausea |