Description Edit
The Sauce Pan is a block used to boil certain items.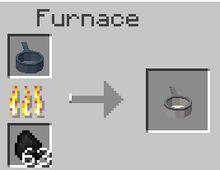 A Sauce Pan is created by Smelting an Unfired Sauce Pan. (See Pottery)
How to Use Edit
To use a Sauce Pan, you must first place it on top of a fueled Heater. Then you must place Items in to one or both of the left hand slots, and wait until they are boiled.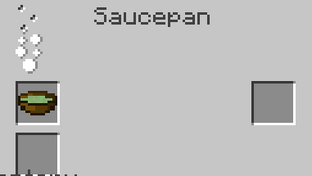 Sauce Pan Recipes
Edit
Below is a Table of Sauce Pan Recipes:
| Top Input | Bottom Input | Output |
| --- | --- | --- |
| Mint Ice Cream Mix | | Boiled Mint Ice Cream Mix |
| Vanilla Ice Cream Mix | | Boiled Vanilla Ice Cream Mix |
| Chocolate Ice Cream Mix | | Boiled Chocolate Ice Cream Mix |
| Lemon Ice Cream Mix | | Boiled Lemon Ice Cream Mix |
| Strawberry Ice Cream Mix | | Boiled Strawberry Ice Cream Mix |